NEW: Self-service check-in terminal at Messe Wien +++ Successful initial test run during EAGE Conference & Exhibition 2016 +++ E-check-in now available for all flights from Austrian Airlines, Lufthansa, SWISS and Brussels Airlines +++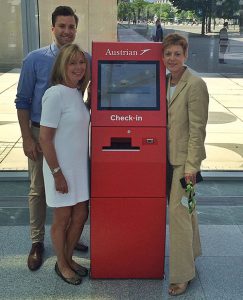 VIENNA (13th June 2016). – Messe Wien Exhibitions & Congress Center is the first exhibition and congress facility in Austria to provide an Austrian Airlines self-service check-in terminal. The Austrian Airlines terminal now allows visitors attending events at Messe Wien to check in for all flights offered by Austrian Airlines, Lufthansa, SWISS and Brussels Airlines, and then to print out a boarding card.
The new terminal was installed by Messe Wien's partner airline Austrian Airlines during the EAGE Conference & Exhibition held on the 30th May – 2nd June at Messe Wien. More than 4300 EAGE delegates at the event had the opportunity to test the system on site. The mobile terminal can be set up anywhere around the Messe Wien facility, if necessary in strategically favourable places. Remote servicing is conducted by Austrian Airlines via a live link and the latest software from Austria's national airline is uploaded every night.
Simple operation
Passenger check-in procedures are the same as a computer e-check-in at www.austrian.com. For the majority of Austrian Airlines' destinations, web check-in is available from 47 hours before the scheduled time of departure. An overview of the seating plan enables passengers to see immediately which seats have been taken and which are still free, and subsequently to click on their preferred seats on the plan. Passengers flying together can be added very easily. However, if a passenger would like to secure a very special category of seating for the flight, Austrian Airlines recommends making a seat reservation when booking the flight.
Upgrades possible
Austrian Airlines' self-service check-in terminal at Messe Wien also offers a variety of other functions such as an upgrade to business class, an additional item of luggage, lounge access and seats with more legroom on medium and long-haul flights.
Boarding card print-outs
Once booking and self-service check-in procedures have been completed, the terminal at Messe Wien allows passengers to print out their own boarding cards. Those also wishing to hand over luggage can take the boarding card to a baggage drop-off desk at Vienna airport or use the self-service baggage drop-off machines at desks 351-354 in terminal 3 at Vienna Airport. The boarding card printed at Messe Wien also enables passengers to gain direct access to their flight gates. (+++)
For more information about Messe Wien visit www.messecongress.at and Facebook www.facebook.com/messewiencongress.
For further information contact the Reed Exhibitions Press & PR Team:
Director Press & PR: Paul Hammerl
paul.hammerl@reedexpo.at
Senior PR Manager: Oliver-John Perry
T: +43 1 727 20 2421
oliver-john.perry@reedexpo.at
PR Coordinator: Karin Nistler
T: +43 1 727 20 2420
karin.nistler@reedexpo.at
Downloads