VIENNA (12th September 2016). – On the 1st and 2nd of September 2016 Vienna played host to the who's who of the international congress industry. This year, Reed Exhibitions Messe Wien invited the ICCA to hold their Venue Sector Workshop at the Messe Wien facility. The ICCA is a global association of experts from the congress, meetings and event industries. The idea behind the ICCA workshop, held at a different venue around Europe every year, is to provide a networking hub. Representatives of Europe's largest congress venues meet other international congress and event hosts to establish fresh lines of contact and discover new destinations.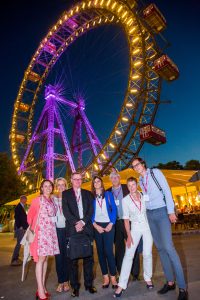 Renate Dobler-Jerabek (Mag.), Messe Wien director of third-party gatherings, was delighted by the success of the event: "It was a great honour for Reed Exhibitions Messe Wien be able to host this year's ICCA workshop with the support of the Vienna Convention Bureau. During the two days of the event we were able to show participants countless places of beauty and interest around the congress city of Vienna and, of course, the infrastructural benefits provided by Messe Wien – the most modern and multifaceted venue in the entire city."
270 million Euro gross added value and 4500 jobs
The local economy and the meetings industry have been aware of what Messe Wien is capable of for many years. This confidence has been backed up by the contents of a recently published WIFO study into the annual economic knock-on benefits generated by Reed Exhibitions Messe Wien. The venue generates 270 million Euros of gross added value and a fiscal yield of 128 million Euros on an annual basis. This enables Reed Exhibitions Messe Wien to support 4500 jobs, and draws in 720,000 visitors and 6000 exhibitors to the city, so it's an important economic engine and source of commercial energy for the Austrian capital." (+++)
For more information about Messe Wien visit www.messecongress.at and Facebook www.facebook.com/messewiencongress.
For further information contact the Reed Exhibitions Press & PR Team:
Director Press & PR: Paul Hammerl
paul.hammerl@reedexpo.at
Senior PR Manager: Oliver-John Perry
T: +43 1 727 20 2421
oliver-john.perry@reedexpo.at
PR Coordinator: Karin Nistler
T: +43 1 727 20 2420
karin.nistler@reedexpo.at
Downloads