Messe Wien Exhibition & Congress Center hosts European Top Medical Congress of Human Reproduction and Embryology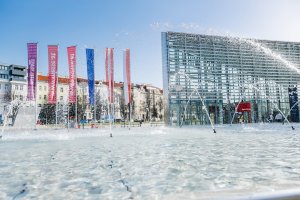 VIENNA (June 25th 2019).- More than 10.000 participants from over 100 countries are attending the 35th Annual ESHRE Meeting at Messe Wien. The congress of the European Society of Human Reproduction and Embryology from 23rd to 26th June offers 79 scientific sessions with a total of 230 oral communications as well as 800 scientific poster presentations. An accompanying exhibition presenting more than 180 companies completes the scientific programme.
Prof. Mag. Dr. Thomas Ebner, from the Kepler University Klinikum Linz, President of the local organizing committee comments on the scientific programme: "ESHRE will now be in Vienna for a second time and once again its responsible bodies have put together a series of outstanding invited scientific sessions covering much cutting-edge research, such as gene editing, tissue engineering and stem cell therapy to name but a few. Sixteen carefully selected Precongress Courses as well as Industry sponsored symposia will further complete a scientific event that is now without equal. Being the first Austrian Board Member of ESHRE it is a special honour for me to welcome the 35th Annual Meeting of ESHRE in Vienna."
Powerful Sideevents
Three specific events make the Vienna congress a very special one:
The income of the ESHRE charity run, which takes place at the Wiener Prater, will support Fertility Europe, a patient organization fighting against infertility.
The ESHRE Young Ambassadors – five participants younger than 35 years communicate about the meeting on Twitter – they receive visibility as officially selected by ESHRE and in exchange they produce some content about the meeting on social media.
The Ethics Consultant Session – Participants who have come across an ethical/ moral question in their practice can submit a case ahead of the meeting. There will be a selection and those cases which have been selected will be discussed with bioethics experts of ESHRE during a dedicated session in the ESHRE Village. This type of session takes place for the first time during the Vienna Congress.
(c) Reed Exhibitions / David Faber
Contact ESHRE:
Univ.Prof.Mag.Dr. Thomas Ebner
Laborleitung Kinderwunsch Zentrum
Kepler Universitäts Klinikum Linz
Tel.: 0043 (0) 5 – 768084 – 24600
Thomas.ebner@kepleruniklinik.at
Contact Reed Exhibitions Messe Wien: