EU Fundamental Rights Forum: 20-23 June 2016 in Vienna +++ 400 contributors from over 28 countries; 130 visionary speakers and international experts; 54 workshops, 6 panel debates, 10 "connect.reflect.act – Talks" +++ Three themes: inclusion, refugee protection, the digital age +++ Follow the talks via Live stream #rightsforum16 +++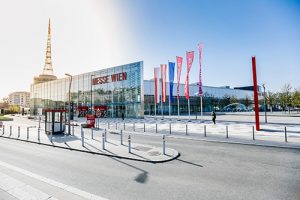 VIENNA (3 June 2016). – From 20-23 June 2016 the EU Agency for Fundamental Rights (FRA) holds the Fundamental Rights Forum in the Messe Wien. More than 400 experts will gather in Vienna for three days to talk about the most pressing issues facing Europe at the moment. The Forum has three themes: refugee protection, the digital age and inclusion. Participants include activists and academics, business leaders and creative thinkers, cabinet ministers and diplomats.
Fundamental Rights Forum: connect.reflect.act
Up to 54 workshops, 6 panel debates, 10 'connect.reflect.act – Talks', with over 130 visionary speakers and international experts, are to find responses to the continuing refugee crisis, persistent discrimination and exclusion, and massive intrusion into privacy and personal data. Although awareness of human rights is growing, thanks in part to the EU's Charter of Fundamental Rights, more needs to be done. For example, policy makers should reinforce the implementation of our human rights framework, businesses should stimulate the growing interest in corporate social responsibility and inclusive sustainable growth, and rights holders should be empowered to participate fully in life. This is where the Forum comes in.
High-profile speakers include First Vice-President of the European Commission Frans Timmermans and U.N. High Commissioner for Human Rights Zeid Ra'ad Zeid Al Hussein. Internationally renowned political theorist Benjamin R. Barber and filmmaker Gianfranco Rosi (Winner of the Berlinale 2016) will also participate in panel debates and be available to speak with accredited media representatives.
Live Stream: #rightsforum16
Participation in the Forum is upon invitation only but can be followed online via Live Stream in English, French and German. Use the Twitter Hashtag #rightsforum16. Link: https://twitter.com/hashtag/rightsforum16
The Media and the Battle for European Values
Briefing and discussion: 6 June, 10 a.m.
Monday 6 June (10 a.m.) FRA Head of Department and Forum's organizer, Friso Roscam Abbing, invites media to a briefing and discussions at Presseclub Concordia. In the lead-up to its first international forum, the EU Agency for Fundamental Rights (FRA) has gathered a panel of top journalists to discuss the role of the media in the present flow of refugees and migrant policy and it looks at how journalists could keep their sources safe in the age of digital surveillance. The panel will be chaired by Caroline de Gruyter (Correspodent of Dutch newspaper NRC Handelsblad). Guests are Helmut Brandstätter (Chief Editor from Kurier), Florian Klenk (Chief Editor from Falter), Anna Maria Wallner (Manageing Editor from Die Presse am Sonntag) and Eric Frey (Managing Editor in Chief from Der Standard).
For accreditations please contact media@fra.europa.eu or Blanca Tapia (Spokesperson/Media Manager Fundamental Rights Promotion Department) on blanca.tapia@fra.europa.eu or phone +43 (1) 58030 650 / 642. (+++)
For more information about Messe Wien visit www.messecongress.at and Facebook www.facebook.com/messewiencongress.
For further information contact the Reed Exhibitions Press & PR Team:
Director Press & PR: Paul Hammerl
paul.hammerl@reedexpo.at
Senior PR Manager: Oliver-John Perry
T: +43 1 727 20 2421
oliver-john.perry@reedexpo.at
PR Coordinator: Karin Nistler
T: +43 1 727 20 2420
karin.nistler@reedexpo.at
Downloads