Messe Wien Exhibition & Congress Center: web and data highway instead of run-of-the-mill WiFi
State-of-the-art IT and communications infrastructure +++ High-performance 2 Gbit/s internet connection +++ Internal speeds of 20Gbit/s +++ WiFi: Free & Advanced WLAN for exhibitors and visitors +++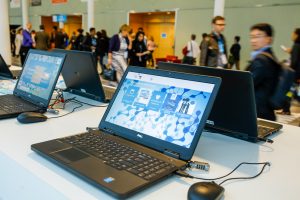 VIENNA (10 April 2014) – The Messe Wien Exhibitions & Congress Center is one of the most advanced meeting centres anywhere in Europe. And this is not only reflected in the pioneering and flexible architecture. It also applies to the location's leading-edge IT and communications infrastructure. Although far ahead of the curve for years, recent upgrades commissioned by Reed Exhibitions, the operator of Messe Wien Exhibitions & Congress Center, have now taken things a step further. The newly adapted IT and communications infrastructure has been fully operational since the start of 2014, and has already demonstrated its capabilities at a series of large-scale international events such as ESTRO 33 (4-8 April 2014).
First-class technical partner: Kapsch BusinessCom
Since the new Messe Wien Exhibitions & Congress Center's official opening in 2004, Kapsch BusinessCom has been responsible for operating exhibitor IT and communications infrastructure. Kapsch BusinessCom provides technical solutions such as internet and telephony for all national and international fairs and conferences at the venue. To make this possible, it maintains a high-performance network that extends throughout every part the Messe Wien Exhibitions & Congress Center. A redundant (2 x 1GBit/s) internet connection guarantees permanent network availability. Two separate lines supplied by two different internet providers assure 1GBit/s transfer rates in each direction. "These kinds of very high-performance internet connections are otherwise only found in major computer centres," explained Renate Dobler-Jerabek, head of Third-party Events at Reed Exhibitions Messe Wien.
Upgrade to 20 Gbit/s
And as if that wasn't enough, Reed Exhibitions continued to invest heavily in 2013, upping the internal connection speeds inside the Messe Wien Exhibitions & Congress Center to 20 Gbit/s. The upgrade project called for considerable investment in technologically-advanced fibre optic technology and new network equipment from Kapsch.
WiFi with state-of-the-art AC wireless standard
The venue's WiFi infrastructure also stands out from the crowd. Reed Exhibitions responded to the constantly increasing number of dial-in and data transfer transactions and the overall transfer volumes at large-scale events by putting the necessary technology in place to ensure even faster downloads, long-term stability and top performance. Now, all of the exhibition spaces and meeting rooms at the Messe Wien Exhibitions & Congress Center have access to blanket wireless coverage. The WiFi network was also given a significant boost in highly frequented circulation spaces such as entrance areas A and D and the mall. "We fully understand the need for web access and rapid data transfer speeds at large-scale conferences. And these upgrades were both a necessary and strategically important move for the future," Renate Dobler-Jerabek explained. The project involved installing cutting-edge access point technology and new wireless access point transmitters from the global market leader, which use the next-generation AC wireless standard. This fifth generation standard is significantly faster and more stable than its predecessors. For Reed Exhibitions, the increased stability was a key argument in its favour as the system has to guarantee access for large numbers of end user devices.
2 WiFi systems for visitors
Visitors at guest and proprietary events hosted by Reed Exhibitions Messe Wien have two options: "Free WLAN" including automatic user registration (SMS authentication) in selected areas, and high-performance "Advanced WLAN", available throughout the entire centre and featuring automated credit card billing. Kapsch BusinessCom offers a redundant WiFi concept with flexible bandwidth allocation for users.
Service solutions for every event
Messe Wien Exhibitions & Congress operator Reed Exhibitions also offers a range of fax and telephone solutions. Rental of handsets, fax machines, conference phones and high-performance copiers, printers and all-in-one machines by Kapsch BusinessCom is a standard service available to all organisers at the Messe Wien Exhibitions & Congress Center.
For more information and reservations please contact Abteilung für Gastveranstaltungen (Third-party Events Department), Reed Exhibitions Messe Wien on: T +43 (0)1 727 20-2300, congress@messe.at (+++)
For more information about Messe Wien visit www.messecongress.at and Facebook www.facebook.com/messewiencongress.
For further information contact the Reed Exhibitions Press & PR Team:
Director Press & PR: Paul Hammerl
paul.hammerl@reedexpo.at
Senior PR Manager: Oliver-John Perry
T: +43 1 727 20 2421
oliver-john.perry@reedexpo.at
PR Coordinator: Karin Nistler
T: +43 1 727 20 2420
karin.nistler@reedexpo.at
Downloads