All options open with 3D simulation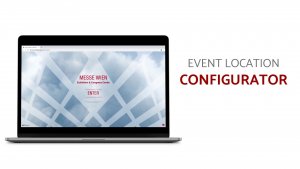 Messe Wien, the sole operator of Messe Wien, is back with a highly-impressive innovation. Guest-event organisers can now visualise planned congresses, meetings, trade fairs and events in advance using a new space planning software programme.
VIENNA (2nd June 2020). – Empty congress and meeting facilities may have their own special charm, but few people would describe them as particularly inspiring. However, now, all actual and potential guest-event organisers at the Messe Wien Congress Center – the best-equipped and most multifunctional venue in Austria – can take advantage of an ultra-modern digital planning and visualisation tool. This instrument enables the user to define and configure a wide range of technical and design-related options, including the precise determination of room dimensions, fixtures and fittings – to the exact requirements of the organiser. This gives customers a decisive head-start on the competition, and saves time by offering a realistic image of how the planned event could or should look 'in detail' and 'on site' at a very early stage.
Visualising multifunctionality
This configuration tool is based on the software of an app developed by the Austrian company ViewAr. "Provision of this service in such high quality underlines our position as a leading Austrian multifunctional venue at the forefront of an international market", states Martina Candillo, Director Congresses & Events at Messe Wien. "The new planning software opens up several options, including determining the location and dimensions of floor space, the positioning of separating walls, and simulations using various seating patterns. This allows us to visualise options with our customers – and to take a virtual tour of the rooms we configure."
Valuable decision-making aid
Put another way, all parameters can be defined and subjected to visual checks. The organiser is able to access rooms interactively, explore them from a range of angles, to add, arrange and exchange furniture and fixtures, and move them at will. Realistic 3D simulations of all surfaces, rooms, equipment options and furnishing arrangements in the Congress Center help immensely when ensuring all the right decisions are made. The new Messe Wien Exhibition & Congress Center visualisation software assures optimum planning and reliable implementation throughout every phase of a project. As Martina Candillo says: "All options are open to our customers from the very beginning!" (+++)
Messe Wien Exhibition & Congress Center:
Paul Hammerl, Director Brand PR Reed Exhibitions Austria
Tel .: 0043-662-4477-2400
paul.hammerl@reedexpo.at