78th EAGE Conference & Exhibition 2016 got more than 4,300 delegates and 300 exhibitors to Vienna +++ Regular Guest at Messe Wien Exhibitions & Congress Center +++ Next scheduled event: EAACI Congress 2016 +++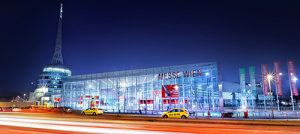 VIENNA (9 June 2016). – Last week the 78th EAGE Conference & Exhibition 2016 took place at the Messe Wien Exhibition & Congress Center from 30 May to 2 June 2016. More than 4,300 delegates and 300 exhibitors traveled to Vienna to attend the largest and most comprehensive multidisciplinary geoscience event in the world. The delegates came from various industries, such as international and national oil companies, energy industry consultants, software vendors, service companies, equipment suppliers, research institutes, licensing agencies and governmental bodies. The six day event hosted a conference and exhibition, workshops, short courses, field trips and a complete student program. SPE EUROPEC (Society of Petroleum Engineers) was also included in the technical program.
EAGE a Vienna Regular
EAGE (The European Association of Geoscientists and Engineers) is a regular visitor of Vienna, especially the Messe Wien Exhibition & Congress Center, having brought the renowned event to the venue in 2006 and 2011 and the SPE/EAGE European Unconventionals Conference & Exhibition both in 2012 and 2014. Right after the event Ricardo Vivas, Business Liaison Officer of the EAGE European office, affirmed that the EAGE Conference & Exhibition will for sure return to Vienna in the not too distant future. "Vienna is not a typical oil city, but our delegates love Vienna and the venue Messe Wien. That's why we are here and feel at home. That's why we love coming back. A big thank you at this point to the professionals of the Austropa Interconvention. The location definitely is a major asset. We are most happy with the setup and find it extremely useful to have the stand building company Expoxx directly on site, or direct access to the entertainment professionals of Steiner Mediensysteme. Overall the Messe Wien is well worth a recommendation", says Ricardo Vivas.
Next stop EAACI Congress 2016
The next scheduled event in the Messe Wien Exhibition & Congress Center is the EAACI Congress 2016 hosted by the European Academy of Allergy and Clinical Immunology, which takes place from 11 to 15 June. The EAACI Congress 2016 will attract around 8,000 international clinicians, researchers and allied health professionals from around the world. It is the most important professional meeting of the year for advances in research, treatment and prevention of allergy and will include discussions on various issues, such as Asthma, Allergy Diagnostics, Dermatology, ENT – Ear, Nose, Throat, Food Allergy, Immunotherapy and others. (+++)
For more information about Messe Wien visit www.messecongress.at and Facebook www.facebook.com/messewiencongress.
For further information contact the Reed Exhibitions Press & PR Team:
Director Press & PR: Paul Hammerl
paul.hammerl@reedexpo.at
Senior PR Manager: Oliver-John Perry
T: +43 1 727 20 2421
oliver-john.perry@reedexpo.at
PR Coordinator: Karin Nistler
T: +43 1 727 20 2420
karin.nistler@reedexpo.at
Downloads