Honorary Guest the Minister of Justice from Hong Kong
Awards Banquet at Messe Wien celebrates the 26th Willem C. Vis International Commercial Arbitration Moots on April 18, 2019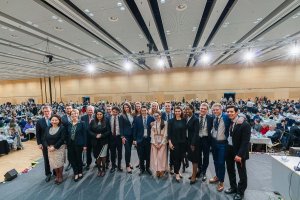 WIEN (April 23, 2019). – The Willem C. Vis International Commercial Arbitration M
oot has been taking place in Vienna since 1993. The goal of the Vis Arbitral Moot is to foster the study of international commercial law and arbitration for resolution of international business disputes through its application to a concrete problem of a client and to train law leaders of tomorrow in methods of alternative dispute resolution. Each participating team has to be nominated by a university faculty of law and consists of minimum two team members.
373 teams from 85 countries, representing more than 3500 participants entered the competition of the 26th International Commercial Arbitration Moots, which took place form April 12 to 18, 2019 at the Juridical Faculty of the University of Vienna.
Grand Finale at Messe Wien
The final dispute of the Moot took place on April 18th at Messe Wien Exhibition & Congress Center followed by the Awards Banquet, where five awards has been handed out.
The overall winning team of the 2019 Moot was the team of the University of Pennsylvania.
More than 2.100 participants joined the Awards Banquet. This year's Moot was specially honoured by the presence of the Minister of Justice of HongKong, Mrs. Teresa Cheng, who also was a member of the jury of the Finale.
"To host the finale as well as the Awards banquet at Messe Wien reflects the multi-functionality as well as the high international reputation of Messe Wien. We are grateful to the organizers who have chosen Messe Wien the fourth time for the final Awards Banquet which emphasizes the confidence in this partnership", commented Martina Candillo, Director Congresses & Events Reed Exhibitions.
Inquiries:
Mag. Paul Hammerl
Director Brand PR
Foto: Winner Ceremony/Awards Banquet at Messe Wien Exhibition & Congress Center
Text: Teresa Cheng, Minister of Justice of Hong Kong, as most prominent member of the jury handed over the awards.