Nobel Prize Winner holds Opening Lecture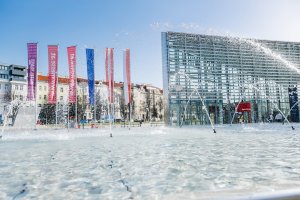 VIENNA (July 8th 2019). – The 21st Symposium for Organic Chemistry will take place from July 14 – 18, 2019 at the Reed Messe Wien. More than 850 participants coming from over 50 countries will attend this jubilee symposium.
The scientific programme will offer 11 plenary sessions and 13 invited lectures. There are about 30 slots for short oral presentations and 561 scientific posters complement the scientific discussions, covering the following key subjects:
Total synthesis and Methodology, Catalysis, Medicinal Chemistry and Chemical Biology, Supramolecular Chemistry, Organic Materials and Physical and Computational Organic Chemistry.
The scientific exchange will be supported and enhanced by dedicated networking activities.
First job fair
An additional benefit introduced for the first time at ESOC 2019 will be a job fair for PhD and postdoc students where companies will conduct interviews on site as a free of charge add-on for the student participants.
More than 90 accepted applicants will meet with the companies participating in the technical exhibition during the symposium underlining the link between science and industry.
Opening lecture of Nobel Prize winner in Chemistry 2016, Sir James Fraser Stoddart
Dr. Michael Schnürch from the Institute for Applied Synthetic Chemistry at the Technical University of Vienna together with Nuno Maulide organizer of the symposium, adds "A highlight of this year's symposium is the key note lecture of the Nobel Prize winner in Chemistry 2016, Sir James Fraser Stoddart, who will talk about Radical Chemistry in the Design and Synthesis of Artificial Molecular Machines, the field of science he received the Nobel Prize for."
Martina Candillo, Director Congresses & Events bei Messe Wien: "The 21st ESOC Symposium emphasizes not only on the excellent positioning of Messe Wien Exhibition & Congress Center as a highly professional meeting location but also being an integral part of the science cluster Vienna University of Economy and Sigmund Freud University."
(c) Reed Exhibitons / David Faber
For further info ESOC:
Dr. Michael Schnürch
Institute für Applied Synthetic Chemistry
Technical University of Vienna
Michael.schnuerch@tuwien.ac.at
Tel.: +43 1 58801 163616
For further info MWECC:
Mag. Paul Hammerl
Director Brand PR