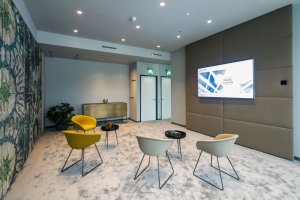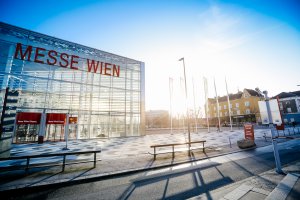 VIENNA (5th August 2019). – The cooperation between Messe Wien operators, Reed Exhibitions, and their communications infrastructure providers, Kapsch BusinessCom, has now been upgraded. The contractual relationship has been extended – and expanded – to include investment in internet, WIFI and communications technology at Messe Wien. Kapsch BusinessCom is to invest 1 million Euros during the next five years.
Free 200Mbit/s WLAN for all visitors
This will be particularly advantageous to visitors* at Messe Wien. From September 2019, they are to enjoy the benefits of 200Mbit/s of data transfer – free of charge. Messe Wien now has the technological capacity to connect 25,000 visitors to the internet; in parallel. These technological standards of have already helped Messe Wien become a domestic and international technology leader among the Vienna venues. "Today, we see access to ultra-high-speed internet as a standard service. In just seconds, visitors' videos, photos and Social Media posts transport the impressions and emotions experienced at our events all the way around the world. The enhancement of our cooperative agreement with Kapsch BusinessCom is enabling us to go a step further and provide fee, high-speed WLAN. We have now begun a new chapter as regards the digitalisation of fairs and congresses in Austria", explains Benedikt Binder-Krieglstein, CEO of Reed Exhibitions Austria.
New media technology already in action
Available since this May, the newly-equipped Messe Wien business suites are showing the way forward in the fair and congress sectors. On behalf of Reed Exhibitions, Kapsch BusinessCom has fitted these facilities with 95-inch flat screens and ultra-modern wireless communications technology. Further technical developments are on the way.
(c) Reed Exhibitions / Christian Husar
(c) Reed Exhibtions / David Faber
Inquiries
Oliver-John Perry, Director Public Affairs & Corporate Spokesperson
Tel. +43 (0)1 727 20 2421 / +43 (0) 676 8232 2421
E-mail: ojp@reedexpo.at
About Reed Exhibitions Austria: Reed Exhibitions Austria is a subsidiary of Reed Exhibitions (RELX-Group) in London, one of the market leaders in the exhibitions and events industry, operating in 40 different countries. The Austrian group consists of Reed Exhibitions Messe Salzburg, Reed Exhibitions Messe Wien, operator of Messe Wien, and STANDout, one of the Top 20 European stand building companies. With 390 employees, Reed Exhibitions Austria has offices in Salzburg, Vienna, Wels and Düsseldorf. www.reedexpo.at